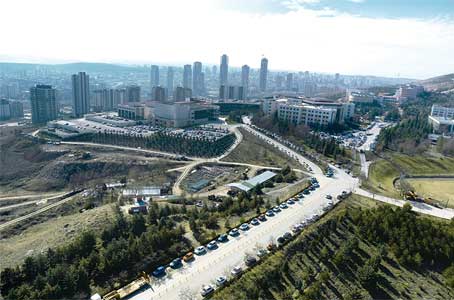 History
History
Baskent University; Prof. Dr. Mehmet Haberal founded Turkey Organ Transplantation and Burn Treatment Foundation in 1980, the Dialysis Center in 1982, the first hospital in 1985, and after the Haberal Education Foundation in 1986, in order to meet the need for higher education institutions and to establish a modern education system, he established Başkent University by Law No. 3961 published in the Official Gazette dated January 13, 1994, based on the Decree Law No. 515 dated September 14, 1993.
The aim of our university is to raise people who reach the universal knowledge required by the information age and have the skills to use the information; who have knowledge and experience in the fields of health, education, humanities, law, communication, arts, environment, industry, trade and technology; and who are researchers, and dynamic and sensitive to the problems of the country; who are successful in their professions and business world; who are open to competition; who are closely related to the international environment; who maintain our artistic, cultural and historical values; and who are sensitive to the environment.
In the 1994- 1995 academic year, the Faculty of Medicine (Medical Specialty Education), School of Nursing and Vocational School of Biomedical Device Technology continued its education activities in Bahçelievler district, in the same period as Ankara-Eskişehir State Highway 20 km, Başkent University construction began in the 1995- 1996 academic year.
The first of the Application and Research Centres established under the university was opened in 1994 in Izmir in order to expand quality health services and to improve health education to include the solution of health problems in different regions of our country.
In the 1998- 1999 academic year, a graduate program in Industrial Engineering and a doctorate program in Electrical and Electronics Engineering were established within the Institute of Science and Technology, and graduate education started at the university. In addition, at the end of this academic year, Ayşeabla College in Ankara and Başkent University College Ayşeabla Schools joined us. Thus, all the links of the education chain from kindergarten to doctoral degree were completed.
The educational activities started in 1994 at Başkent University with 11 Faculties, 1 State Conservatory, 6 Vocational Schools, 7 Institutes and School of Foreign Languages.
In addition to educational activities, the University has the following centres for research and application. In 2017, the Stress Management Application and Research Centre became operational.
Disaster Training and Response Centre
Atatürk's Principles and History of Turkish Revolution Centre
Criminal Law and Criminology Research and Application Centre
Language Research and Application Centre
Training, Consultancy and Research Centre
Women, Children and Family Planning Research and Application Centre
Culture and Art Research Centre
Mithat Çoruh Quality Management Centre
Music Application and Research Centre
Ord. Prof. Dr. Enver Ziya Karal History Application and Research Centre
Measurement and Calibration Application and Research Centre
Centre for Strategic Research
Stress Management Application and Research Centre
Sustainable Environmental Research and Application Centre
Turkish Language, Literature and Culture Research and Application Centre
Turkish Culinary Culture Research and Application Centre
Turkish Teaching Application and Research Centre
Distance Education Application and Research Centre
Production and Research Centre
Creative Culture Industries Application and Research Centre
The health research and application centres of our university are:
Baskent University Ankara Hospital
Adana Turgut Noyan Research and Application Centre
Alanya Research and Application Centre
Konya Research and Application Centre
Istanbul Health Application and Research Centre
İzmir Zübeyde Hanım Application and Research Centre
Other units supporting educational and research activities of our university are:
Quality Management Representative
Career Guidance Centre
Academic Evaluation Office
Innovation and Technology Transfer Office
International Relations and Exchange Programs Coordinator
Ekin Pre- Incubation Centre
Orchestra Academic Capital
Psychological Counselling and Guidance Centre
Baskent University conducts education and research activities on three campuses, particularly the Bağlıca Campus. The application hotels of the university; Kızılcahamam Patalya Thermal Resort and Gölbaşı Patalya Lakeside Resort Hotels provide services for the applications of our students within the framework of educational activities.
Being the first Foundation University to receive ISO Quality Certificate in health and education activities, our university received Golden Quality at the New York 2013 International Quality Summit, Platinum Quality Award at the Paris 2015 International Quality Summit, and Quality and Technology awards at the 2016 Frankfurt European Meeting.
Our university's health and education activities have been carried out within the framework of international ISO 9001 standards since its establishment. As a result of necessary evaluations in 2017, TS-EN-ISO-9001 Quality System Certificate: 2015 Version was adopted.
Our University has the Diploma Supplement Label and European Credit Transfer System (ECTS) Label within the scope of Restructuring Studies in Academic Programs (Bologna Process). In 2017, UTEAK (National Medical Education Accreditation Board) reaccreditation, Adana Adult Stem Cell Transplantation and Cellular Treatment Centre (Joint Accreditation Committee ISCT-EBMT) was accredited by ESGO (European Society of Gynaecological Oncology) and Gynaecological Oncology Centre. The EUR-ACE Label and MÜDEK (Association for the Evaluation and Accreditation of Engineering Education Programs), which were held in two parts in the previous year, were obtained for all programs of the Faculty of Engineering.
The Diploma Supplement studies have been completed within the scope of the Bologna Process in our University and the Diploma Supplement has started to be given to all our graduates as of 2005-2006 with the approval of the Council of Higher Education. As of 2012-2013 academic years, the Europass Label is used in the diploma supplements given to our graduates. The University has taken its place in the European Higher Education Area with the Diploma Supplement Label and ECTS Label.