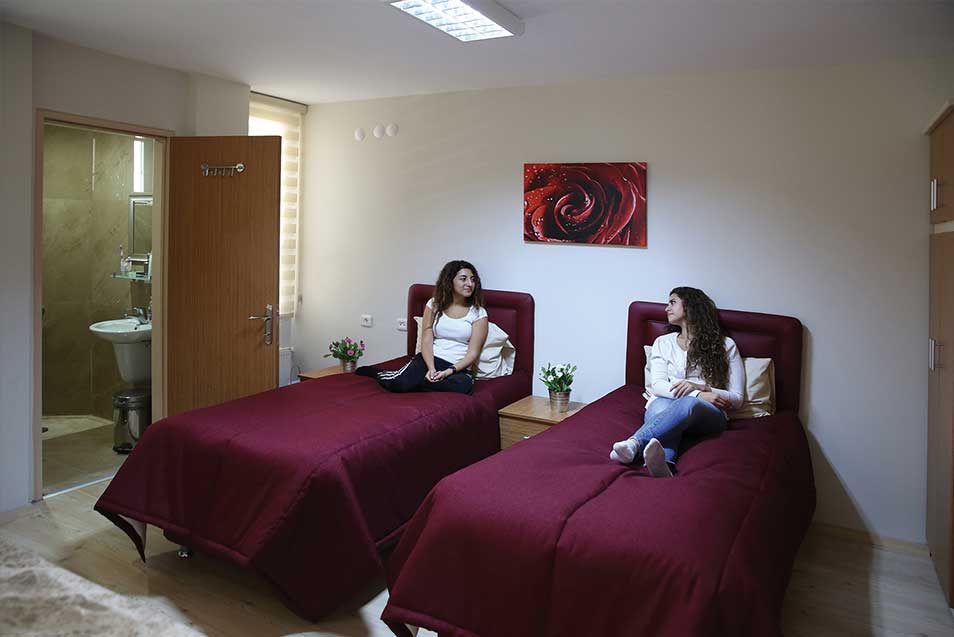 Health, Nutrition, Housing, Transportation
Purpose

Built in 1996, our dormitories aim to provide our students with accommodation, food services and the opportunity to study in a healthy, safe and clean environment. The dormitories aim to support our students in adapting to the conditions of communal living and to contributing to their success.

General Information
The student dormitories consist of 3 blocks which contain double and single rooms as well as double and single corner rooms. The dormitories have a bed capacity of 456.
1 block is in the service of the male students, and the other 2 blocks are for the female students. There are special rooms available for the students with disabilities.
The rooms are covered with laminated flooring.
All the rooms include bathroom, washbasin, toilet and 24 hours available hot water.
The rooms contain beds with storing cavity, wardrobe, bookshelf, study table and chair, TV, mini fridge and armchair. The corner rooms also contain a kitchen counter.
Every block has telephones on each floor which can be connected by announcement when dialed from outside the campus.
The dormitory building and the rooms are cleaned daily. The bedlinens are provided by the administration, and they are changed biweekly.
All the rooms have access to limitless wi-fi.
The entrance to the blocks and the rooms are made by an electronic cart system and the facilities are monitored by a camera surveillance system.
Male and female dormitory and security staff is present in the dormitories for 24 hours.
There is 24-hours open study hall, a space on the 6th floor of each block which can be used for studying and social purposes.
There is a workshop facility especially for use by architecture, fine arts and dentistry students. At the same time, the library in the campus is open every day until 23.00, and there is a 24-hours open study hall in the library.
The dormitories are inside the campus, and the transportation to the city center is provided free of charge by the buses of the university.
The latest time to enter the dormitories is 24.00 on the weekdays and 01.30 on fridays, saturdays and the official holidays.
The dormitories have cafeterias where the students can choose between tabl d'hote menu or a la carte menu, market, game hall, male-female hairdresser, prayer room and laundry (with sufficient number of washing machines, dryers and irons).
Inside the dormitories, there is a student health center that is in service for 24 hours free of charge.